Yesterday it was warm and sunny….The first day of Spring….What Happened??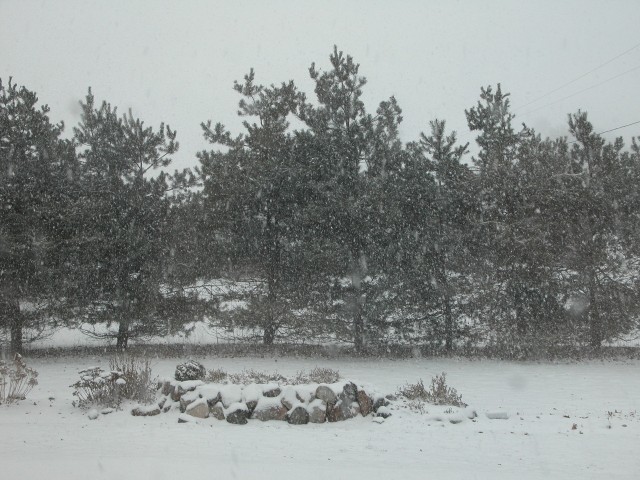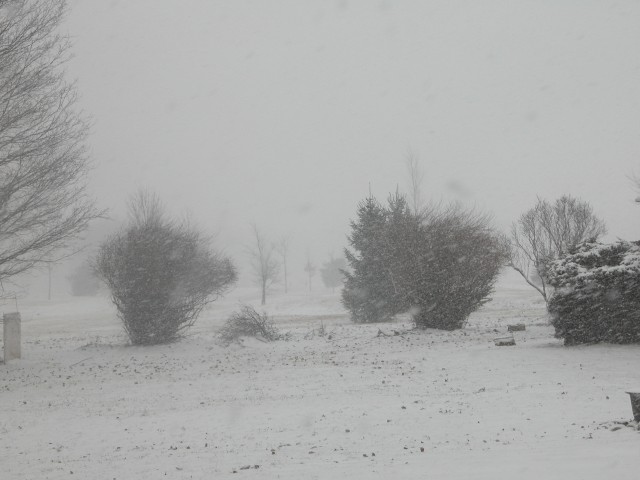 If you click on the pictures you can see the driven snow better. It's coming down around a rate of an inch an hour. (From my own calculations)
When I took the pictures the ground was just starting to be covered. Now we have just shy of three inches. Good thing we put more wood in the basement this morning before this all started.
Here's the official prognoses:
…WINTER STORM WARNING REMAINS IN EFFECT UNTIL 8 AM EDT SATURDAY…
SNOW WILL CONTINUE OVERNIGHT WITH SOME BLOWING AND DRIFTING OF SNOW LATER THIS EVENING. THE EVENING RUSH HOUR WILL BE TREACHEROUS. THE SNOW WILL TAPER OFF AFTER MIDNIGHT AND END BY DAYBREAK. EXPECT A TOTAL OF 6 TO 12 INCHES OF SNOW FROM THIS STORM.
A WINTER STORM WARNING MEANS SIGNIFICANT AMOUNTS OF SNOW…ARE EXPECTED. STRONG WINDS ARE ALSO POSSIBLE. THIS WILL MAKE TRAVEL VERY HAZARDOUS OR IMPOSSIBLE.
I wonder what the Robins are doing….The Red Wing Black Birds are at the feeders eating sunflower seeds, but I don't see any Robins, they must just be hunkered down some place.
We will have to monitor the hoop house to make sure that the snow doesn't collapse it….again…..