Hi, it's good to see you! Today's big NEWs:
New year (Happy 2014!)
God's mercies (new every morning)
New Piglets (more details coming eventually)
Our blog found a new home (read on.)
Yes, we've finally switched to a WordPress-based blog. Do you like the new look?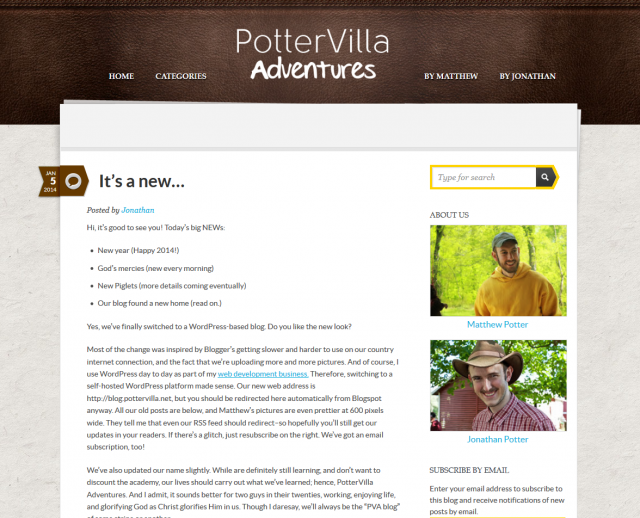 Most of the change was inspired by Blogger's getting slower and harder to use on our country internet connection, and the fact that we're uploading more and more pictures. And of course, I use WordPress day to day as part of my web development business. Therefore, switching to a self-hosted WordPress platform made sense. Our new web address is http://blog.pottervilla.net, but you should be redirected here automatically from Blogspot anyway. All our old posts are below, and Matthew's pictures are even prettier at 600 pixels wide. They tell me that even our RSS feed should redirect–so hopefully you'll still get our updates in your readers. If there's a glitch, just resubscribe on the right. We've got an email subscription, too!
We've also updated our name slightly. While are definitely still learning, and don't want to discount the academy, our lives should carry out what we've learned; hence, PotterVilla Adventures. And I admit, it sounds better for two guys in their twenties, working, enjoying life, and glorifying God as Christ glorifies Him in us. Though I daresay, we'll always be the "PVA blog" of some stripe or another.
A few smaller NEWs that you may want to check out:
Email subscription & RSS feeds available on the sidebar
Spotify music player (on the sidebar.) Our old playlists.com music player was retired, and so we've switched to Spotify as a provider. There may be ads from time to time (sorry!) but the music selection is wider, and you can even here some of my Abundance album on there. You'll have to hit play to start it. Enjoy!
Links (sidebar). We've collected a number of websites for our different endeavors, and you can find links to them on the right. Also linked are some of our old Blogger friends (and some newer ones), some organizations we appreciate, and a few resources. Checkout the Generations with Vision podcast, sermons from Grace Community Church by Chris Riser (a small church pastor with some deep insight), and the rest.
Categories! Blogger never had categories, just tags. If you want to look back at past posts for certain times of year, or activities check that out from the menu.
It's been a long time since we first signed up with Blogger–the first post was at the end of February in 2008. Nearly 6 years of history! A lot has changed since then:
Matthew grew a beard
We no longer order Chickens to arrive in February
I gave up on video games entirely, and we've cut down some on TV. I don't do modeling or animation anymore, either.
Dad's got a new job, and drives to Jackson instead of Eaton Rapids
Matthew rents land across the road, and I've got an office downtown
But more has stayed the same:
Mom still makes the world's best biscuits
Matthew still has his own patented way of hanging up laundry (and still freeze dries!)
Baxter still loves to herd things, though gets the occasional chance at real sheep
Matthew still raises chickens, and I still build websites.
We're still working with the Awana program at Ainger Bible Church
I still play the piano, and still am releasing piano albums (Abundance being the most recient, released just last month)
Dad and I still play our horns with the Homeschool Music Association
Michigan weather is still unpredictable
Regarding that last note, they're predicting another heavy storm (after December's Christmastime ice storm that devastated the area), a possible 8-14 inches of snow overnight. But we're not complaining–aside from the possibility of church being canceled (which it was last month for the first time since we've attended), we welcome any and all snow that would like to come visit.
And of course, the sign in the front yard still welcomes you to "PotterVilla".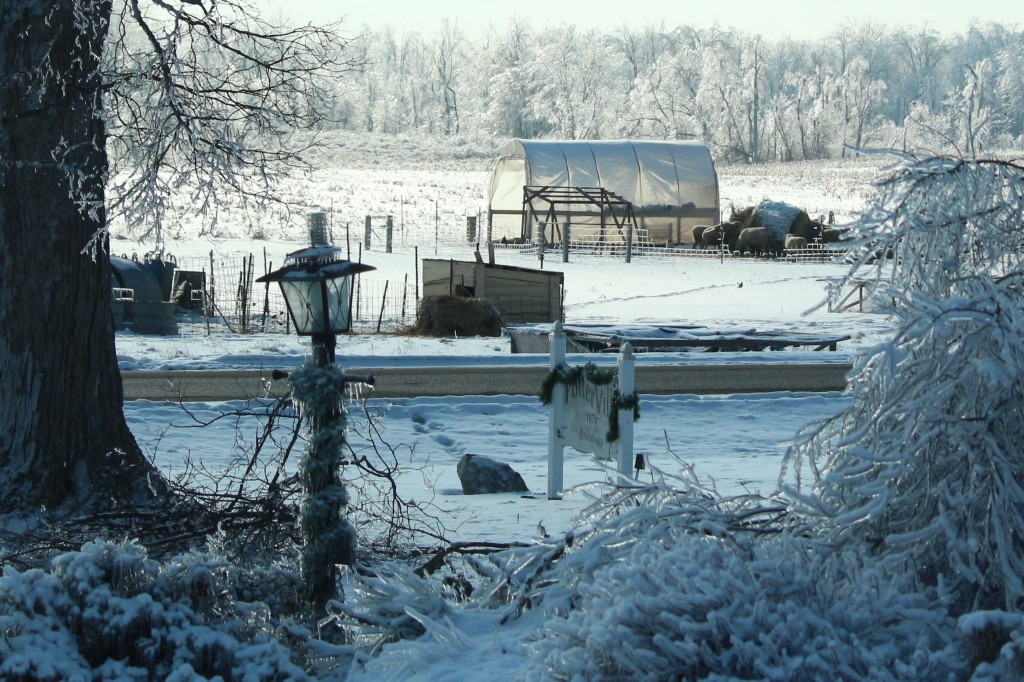 May God bless your 2014!
– Jonathan