In more ways than one, we're back to a more typical status here at PotterVilla… The blog is back to properly uploading pictures (Thanks to PotterVilla Applied Technology :D) and the weather has been pretty "normal" the last couple of days. Of course in Michigan we realize that Normal means that things will change soon–as it's said "if you don't like the weather, just wait a minute–it's Michigan!"
A couple of weeks ago there was a frozen fog hanging around the frozen trees: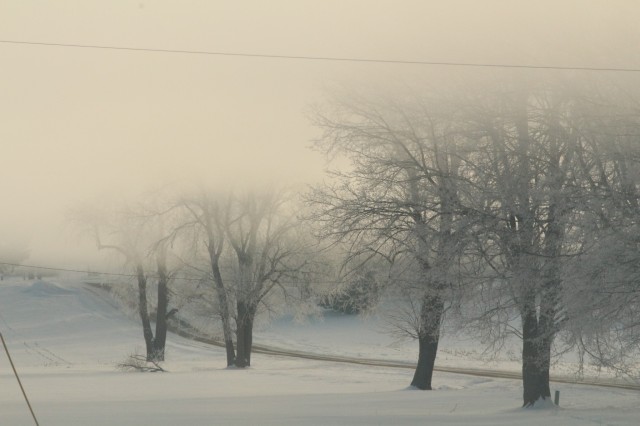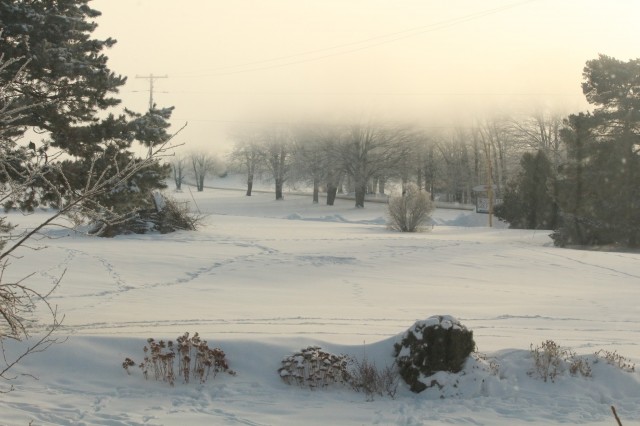 Things have changed several times since these pictures though!
But in the meantime we've been thoroughly enjoying the extra sunshine that February brings to this part of the country. Makes for better squirrel hunting :) We did live through a recent thaw (up to over 40 degrees!) and a day of rain, which means that now we get to live with quite a little ice for a while. Life takes longer on ice. A lot longer sometimes! At times like that I could wish for a bulldozer–They're hard to beat for traction! :) And also at times like this I'm thankful for Yaktrax….makes carrying pails of water to the pigs actually doable. We've been keeping track of the snow totals and melting rate by how much of Dad's little fountain is still sticking through the snow bank–some years we never get much above the bottom basin–this year we've been well over her head for most of the winter! After the recent rain and all the sunshine the snow has been melting and compacting quite a bit.
In the middle of the picture just to the left of the van you can just see "Juliana's" head poking out of the snowbank.  This was shortly before we got a several more inches of snow and she went back under….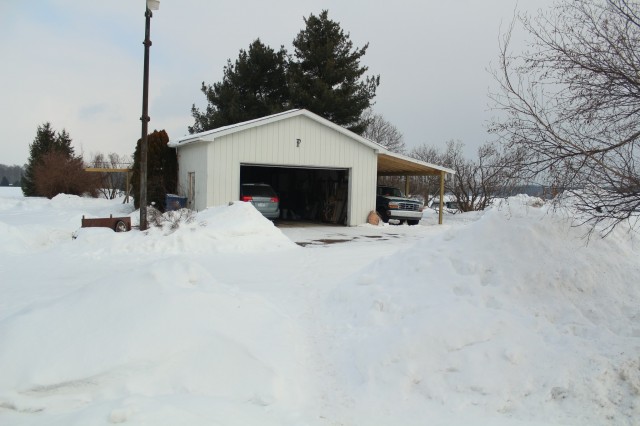 In this one she is just peaking out again–just before the rain storm that was coming.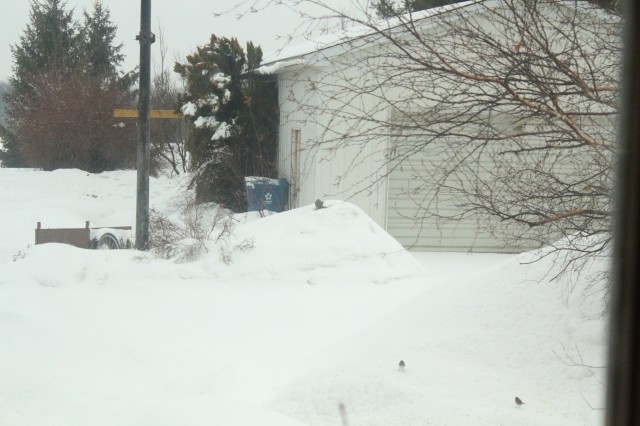 And after the rain she was almost looking down on the top of the pile–and watching all the silly people slip and slide on all the ice….if you just stay in once spot life is much "easier!"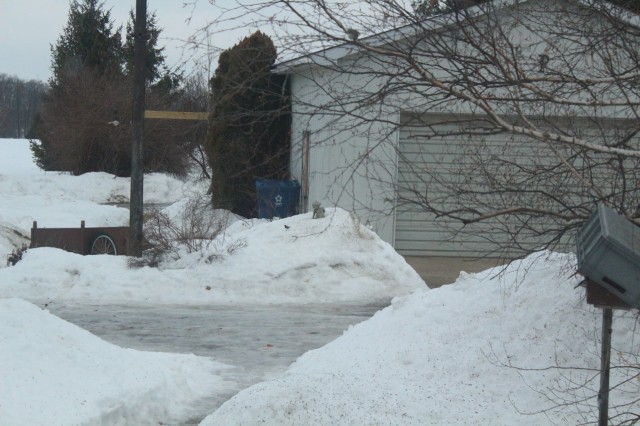 For whatever reason this year I'm still happy to hang on to winter for awhile longer; not sure if it's having enough snow and cold to keep things frozen (and cleaner) or what exactly, but I'm in no great rush for Spring. If we could just keep the deer from eating up all our landscaping, the drives and walks ice free, and the mud from peaking through I'd be good for another month or so of this weather. I know, I know…Move North! ;)
Speaking of the deer, its been crazy how much time they've been spending hanging around the houses lately. It's not like we're back in the woods either–our neighborhood is mostly ~1 acre lots with a few fields in the area and a golf course right behind us. The snow is crunchy enough that they've been waking me up walking underneath the bedroom window to eat the landscaping and birdseed. Last night I finally took a pocket full of rocks to bed with me to have something to chuck at 'em.  If they're going to wake me up I figure I may as well try to keep them from eating the bushes!
During the moderated temperatures, we seized the opportunity and butchered a hog while it was warm enough in the garage to keep the meat from freezing too hard.
The Sawzall is mighty handy for these kind of operations.  Battery powered would be nice too if it had enough power–the cord was getting a bit tangled in things a couple of times.
.)
After splitting the hog and then quartering the halves, we moved the operation to a more hospitable environment :)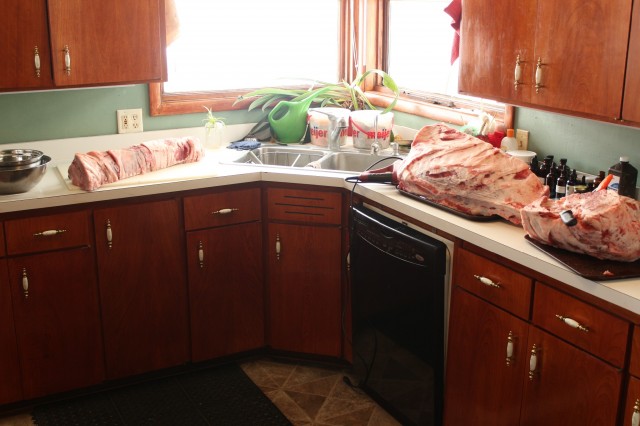 Then in the midst of slicing pork chops, cutting hams and grinding mountains of burger meat, I forgot to take any more pictures–so I'm afraid y'all will just have to pretend there's several more photos of chunks of pork in various stages.  We borrowed a meat grinder from one of my friends and had purchased a couple of different sausage seasoning mixes and some hog casings so part of the end results are pictured here: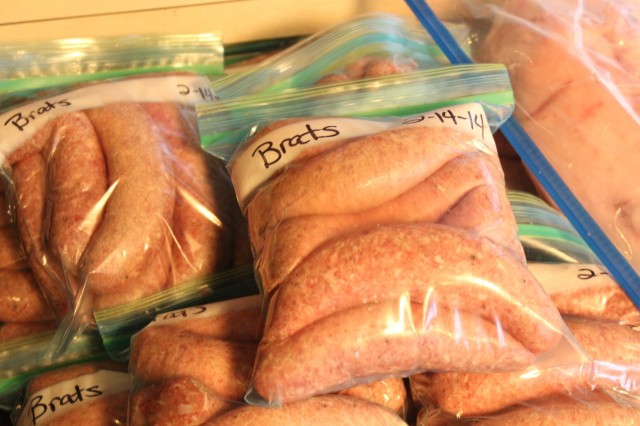 And now every time you open the freezer (presumably to snag another Oreo Truffle! ;) you are met with the delicious aroma of blended spices–now all we need is a good excuse to have a barbecue and try 'em out!
In other news PotterVilla Pastures is doing well this spring and orders for chicken and pork are rolling in (if you're looking for a source for "Quality Meats from the Grasslands" check us out at PotterVillaPastures.com).  And I'm now also a prize-winning photographer! ;)  A picture of my rodeo style ewe busting chickens took 4th place in the winter contest over at McMurray Hatchery website.  It was similar to this one–"Walk through all that snow??? No thanks, I'll just catch a ride!"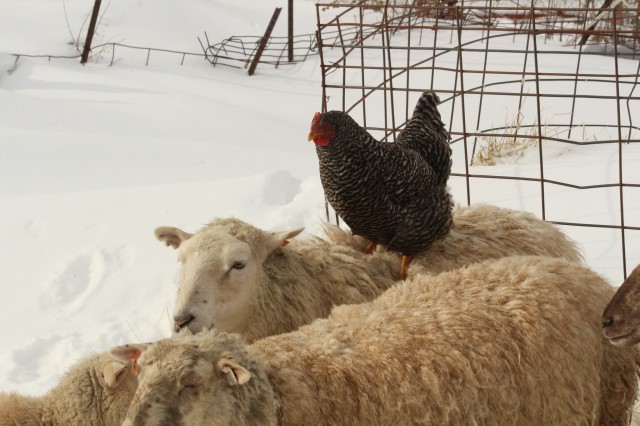 Well seems like tomorrow comes really early when you stay up too late, so I'd better be wishing y'all a good night!
In peace I will both lie down and sleep;
for you alone, O Lord, make me dwell in safety. Ps 4:8
Matthew