With a storm total snowfall somewhere around 15″ there was a lot of snow to plow today! Add in the drifting and you almost have a full time job just to keep on driveway sort of clean. We can't remember the last time we were snowed in–it's been fun :)
While the weather experts said that it was "dangerously" cold and all that and you shouldn't stay outside very long, it didn't seem all that bad to me….my toes did require a few warmings, but with glove-lined mittens and a light scarf even my fingers and nose stayed quite comfortable.
When I popped out to take a few pictures late this afternoon the temperature was hovering around 5 degrees…the wind actually picked up some this afternoon, they said it was supposed to be 27 mph, guess that's where they get that 25-40 below windchill!
Anyway I did get a few pictures to give y'all an idea of what kind of weather we've been enjoying :)
Come on down the road…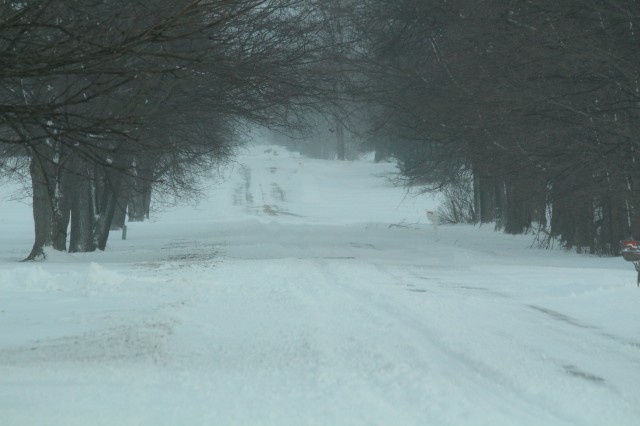 Y'all just make sure to turn in before the sign…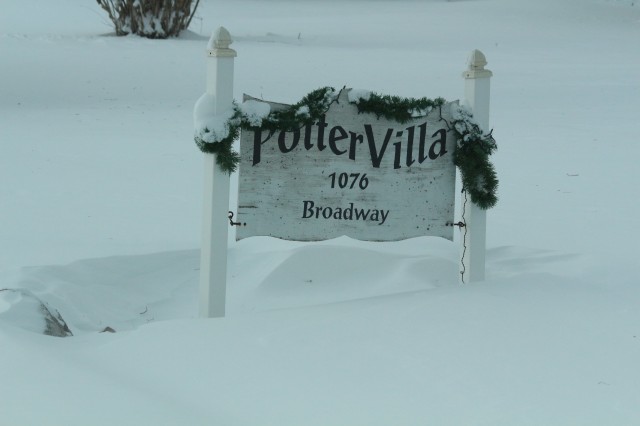 Pull up the drive…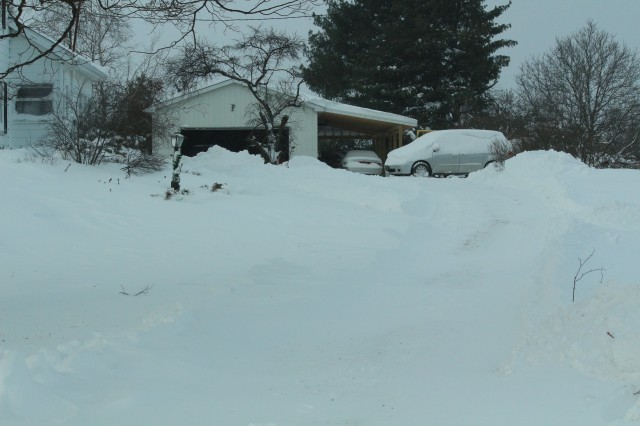 And stop and visit a spell while we enjoy the January sun!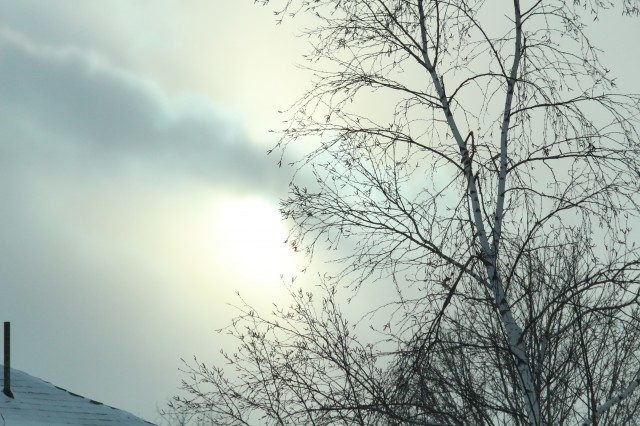 When the wind gets to whipping the woods about a 1/2 mile away nearly disappears.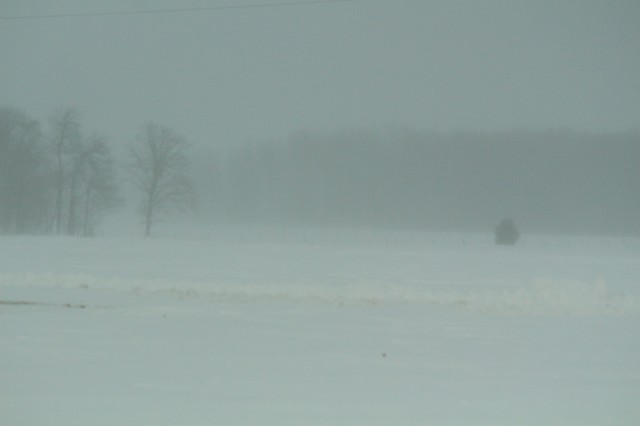 When looking to the east toward this neighbor's barns we often measure visibility by how many power poles we can count just off to the right of this shot.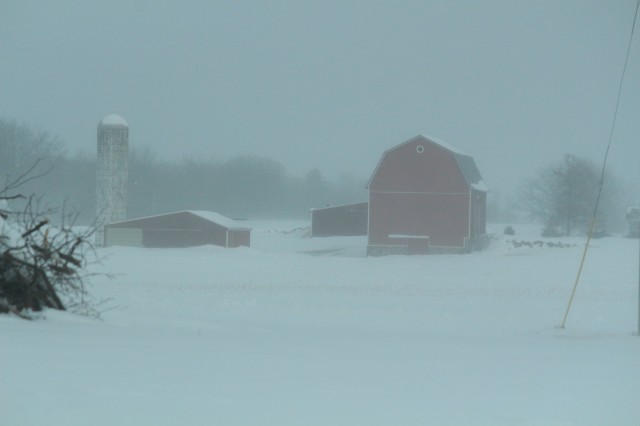 This shows the 20 or 30 gallon garbage can that we use to carry ashes up from the furnace on the corner of our back patio between a couple of snow piles.  All the snow is really starting to pile up :)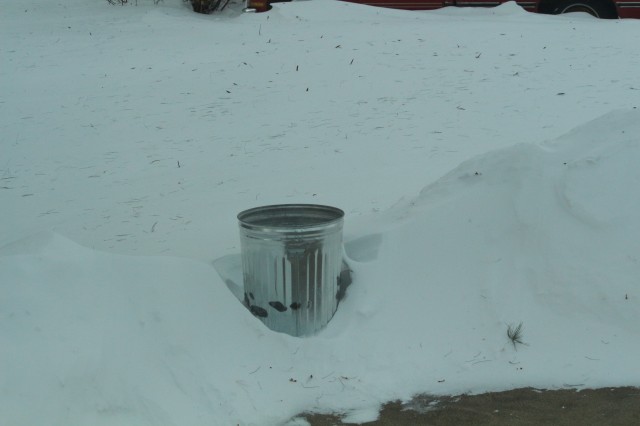 This pile is going to start blocking the view pretty soon!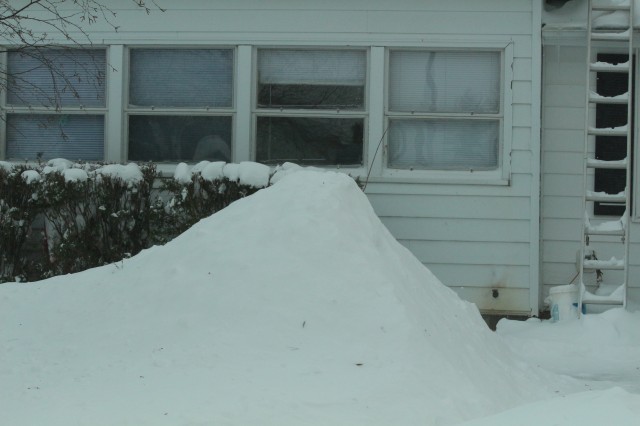 Thanks to this snow piler, we have been able to almost keep up with clearing our driveway! (if you use your x-ray vision on this picture you will notice the snow fort built into the other side of the snow pile on the right of the loader :)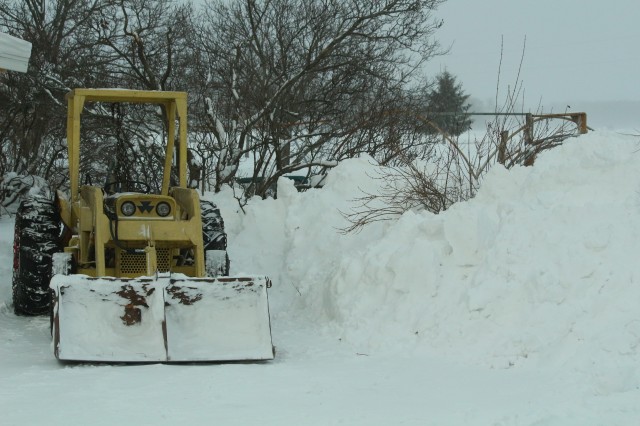 Tire chains are one of the best inventions!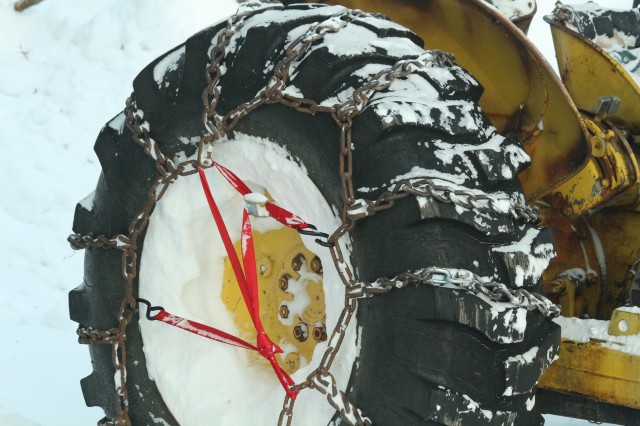 I've never had to plan out where to pile snow before….don't bury the landscaping, don't dig up the rock at the ends of the culvert, leave room for more snow…pack the pile down so we can still see over it to get out onto the road…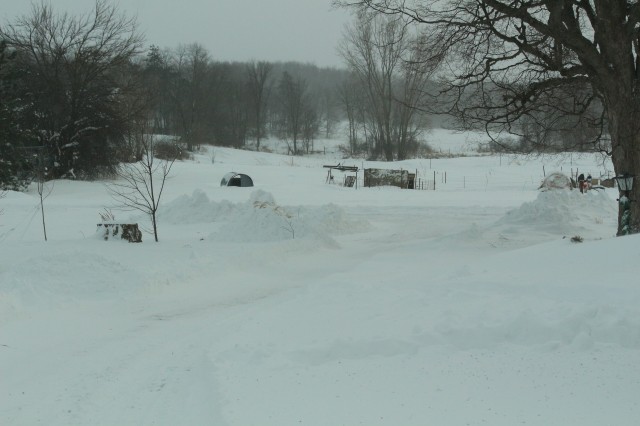 Because, although it's a bit hard to capture with a camera, the wind will blow more snow right back into your drive so you can plow it all over again tomorrow! (or in a half hour, take your pick :)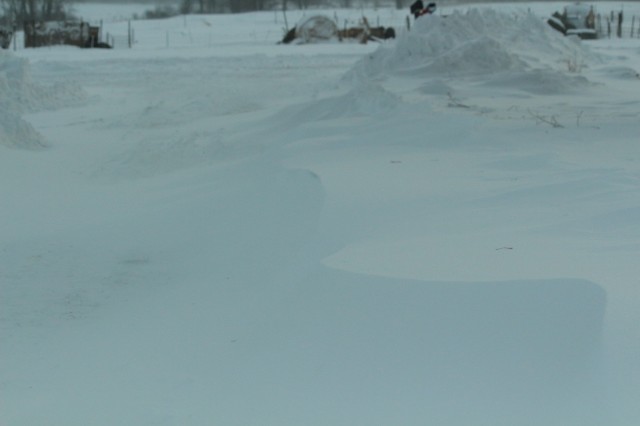 The wind made some very interesting snow sculptures hanging over the edge of the garage roof.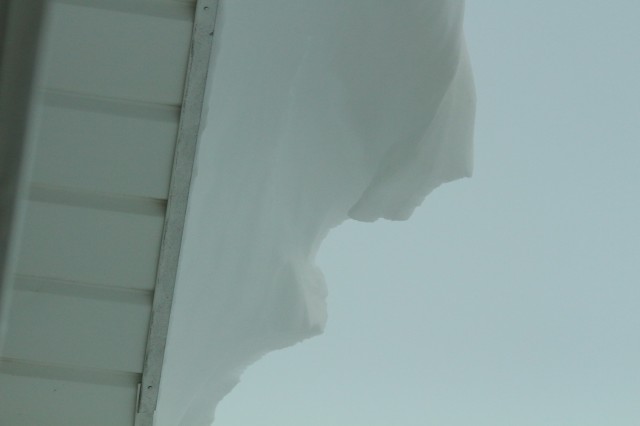 I guess since there isn't much weight it can support strange curls and overhangs?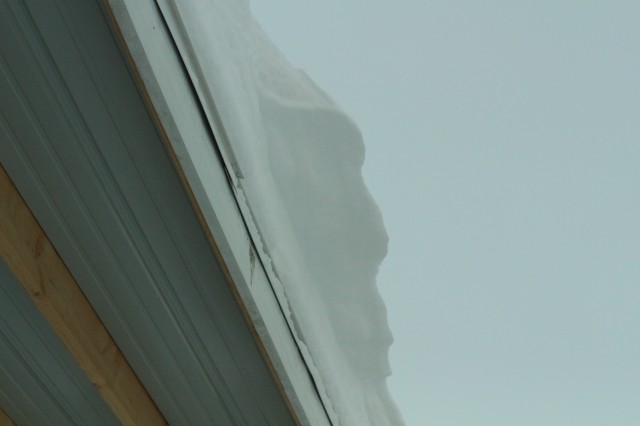 Here's the view of the garage roof from the upper deck of the snow fort: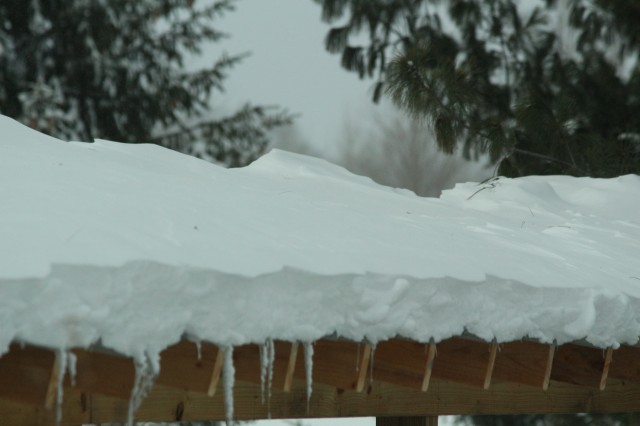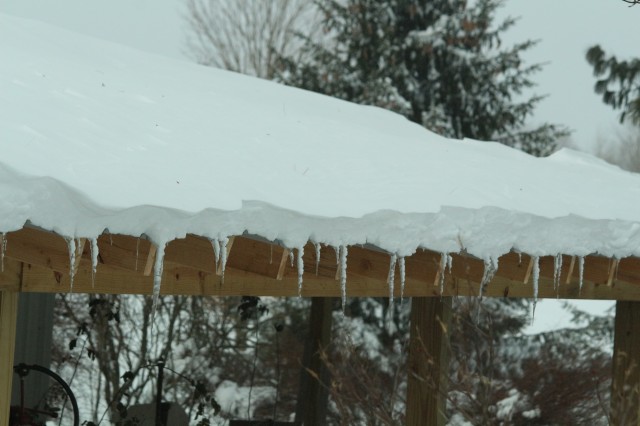 The great thing about 4×4 trucks is that given the right conditions you can get them REALLY stuck :)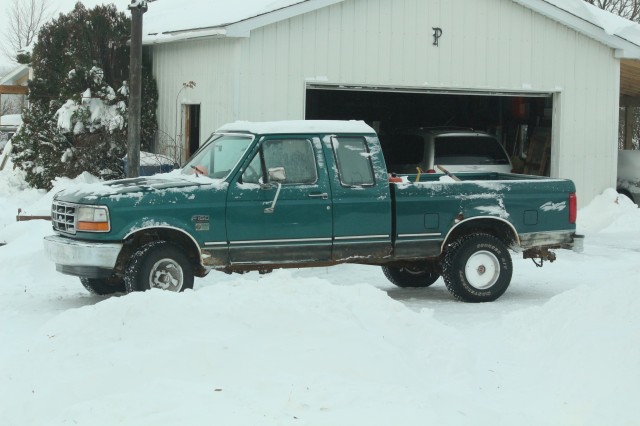 Wish I'd thought to get a picture of it stuck, but just figure that if I might have made it but for the snow that hit the windshield when I started pushing snow with the grill causing me to momentarily let off slightly on the accelerator–just figure it was pretty stuck :D  Thankfully we got 'er out with a little power shoveling and a little tug from a couple of tires equipped with chains :)
We are really thankful for all the snow with these cold temperatures though–it is doing a marvelous job of adding to the R value of house walls (around the foundation) and roof.  When we had the last cold spell, we went through a lot of wood in a short time but this round with even with colder temps and more wind it hasn't been the battle to keep the house warm.
Speaking of warm it's about time to head up to my warm bed…or at least it will be warm once I've been in it for awhile :)
To God alone be Glory–God, the blessed and only Ruler, the King of kings and Lord of lords, who alone is immortal and who lives in unapproachable light, whom no one has seen or can see. To him be honor and might forever. Amen.
–Matthew