Well, though it's hard to see in the midst of the mess we think that we are actually are making progress on the great and infamous Kitchen Project!
Due to actually working the the Project, I haven't had/taken the time to post an update, but we have finally arrive at the day of rest (though it often seems between all of the Sunday church related activities, that Sundays aren't all the restful–but that's a subject for another day…) and so here we go…
Most of these pictures have been uploaded for a while just waiting for comment and explanation–I'm hoping to be able to see the progress myself as I look at them again :-)
This is my new best friend!  It's made the job MUCH easier–thank you to Mr. B. from church for passing it along!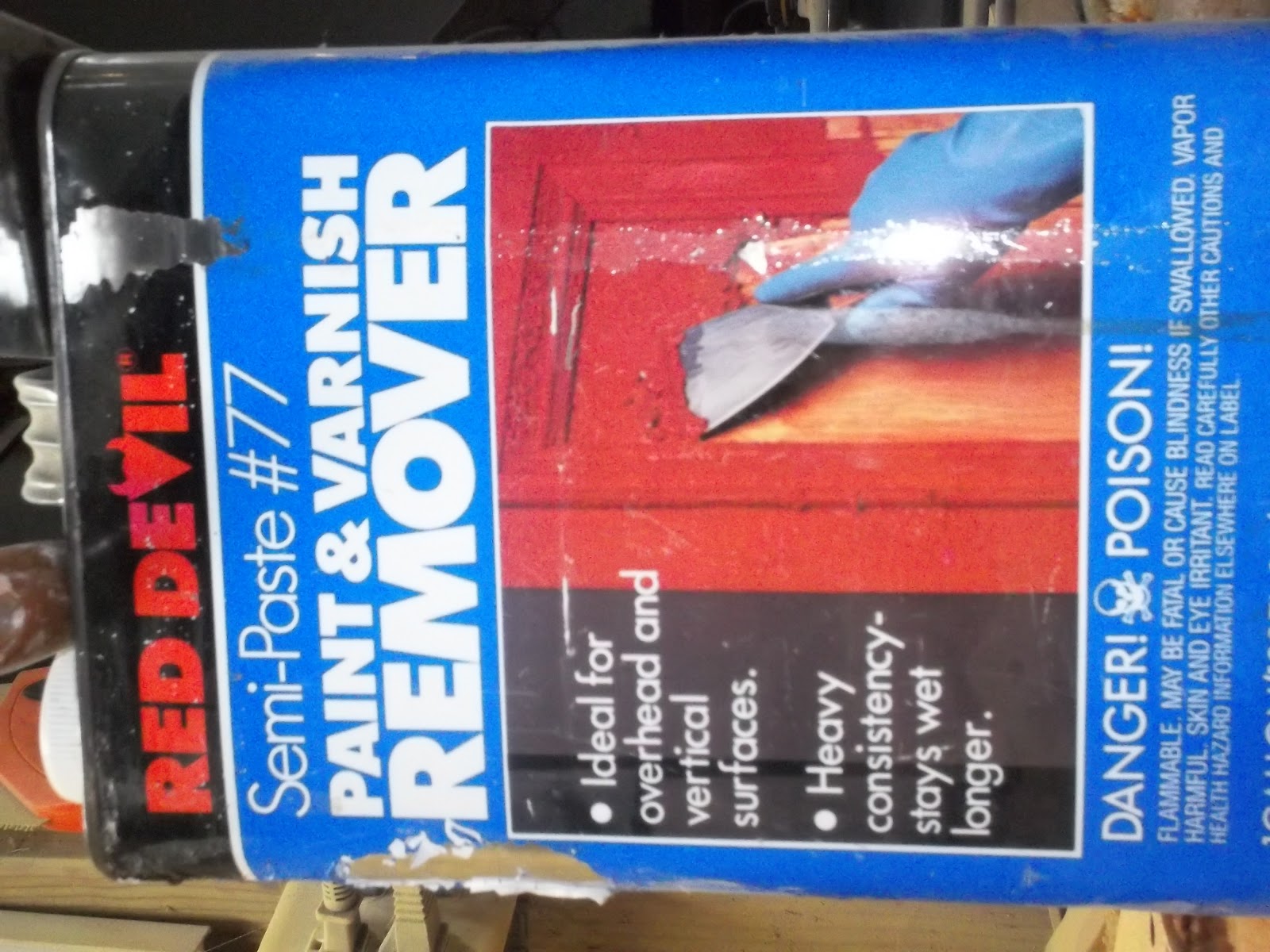 It's from the good 'ol days when the solvents were really strong (and effective).
Fully sanded doors waiting to be stained
Some where along life's way, a bit of dust was created…it's hard to imagine how!
I could have really gone for one of those dust collection units right about that time…
It's not an inch thick yet!  Someday I'll get it all cleaned back up….I hope!
The garage computer even needed it's own dust protection system
The temperatures have continued to be extremely warm for this time of year–still getting into the 40's during the day, but there's still been quite a dent made in my wood pile.  I'm quite thankful that it has been warm, it would be almost a full time job supplying the stove to heat the uninsulated garage if it was down in the 20's like it is normally this time of year.
Looking at these next pictures I start to see progress.  (look in the upper left hand corner–the massive range hood is missing…)  We have been very glad that we've been trying to do some extra cleaning before we started this project, with the doors off you really notice all the stuff that is (normally) crammed into kitchen cupboards.  It was really strange at this stage, we all were constantly trying to shut doors that weren't there!
Its not looking too bad yet :-)  We actually had some folks over for dinner around this point and other people that dropped by didn't even really notice that all the doors were missing until we commented on the cluttered look.  (We're glad for solid cupboard doors!)
I would have to admit it is awfully convenient not to have to open the door–just reach in!  Just goes to show how quickly my human nature is willing to embrace some situations that aren't really ideal, just because it's lazy and likes not having to open the door!  Often life is like that too: it's so much "easier" to use the other door at church so you don't have to talk to that person…to not go find your Bible in the morning from where you left it when you came home from church last night for your quiet time …to not exercise (physical or spiritual)  But there is so much benefit from doing the "extra work" of "opening the door" — your life is much "tidier", more "organized" and there is not the extra stress from all the clutter of peacelessness (my word), should-haves and guilt showing up.   
And then there are the practical considerations of not having a kitchen…where do you put all of the stuff?!?
This is the gigantic dangling monstrosity know as the range hood.  Measuring over 7 feet long and around 2 feet wide it really takes up a lot of space–the kitchen really seems twice as big now that that is out of the visual space!  We are now considering replacing it with something different that doesn't come down as far into our tall people's viewing space.
Another project we've added to the big picture project is upgraded lighting:
Some of these additional "mini" projects as a part of the big picture project may not all get conquered before Christmas….but hopefully soon thereafter.
Once you have things torn apart, sanded down and ready to finish there's one important thing left–What Color?
My Aunt (who's actually good at this kind of thing (vs. us!)) graciously came over a couple of time to help us get an idea of what we might want….so many choices!  I'm not sure if there are more paint colors available or kinds of breakfast cereal….and then you have oatmeal–both a cereal and a color!
We did finally come up with some choices that met with the general approval of all, and Mom and I made an late evening run to Menards (my favorite store–did you know that when we drove to Alaska we stopped at Menards at least once every day (in a different state) until we crossed into Canada?) and here's what we came up with:
On top of the left paint can are samples of laminate…Mom did more research on the counter top paint, and it is apparently a short term solution, so we are going to just get new laminate to put on the existing cabinets; but that is another thing that will have to wait until after Christmas (2 weeks to special order it…AFTER we decide what color to get!) But it will be nice to be able to get the full effect of the colors we already have before choosing a counter color.
On Tuesday it was time to start the painting part of the project.  Here's what the ceiling looked like before:
Jonathan at his desk…he is taking advantage of the time and space while he has it, because the time is coming when it will be covered in plastic!
We moved as much furniture out of the room as conveniently possible, but with mainly big (and one built-in) computer desks it was mostly small stuff and a small couch.  The dog often lays on it and like to get up there to look out the window, but he was getting under-foot (try explaining ceiling painting to your dog…) and so we came up with this fix:
He actually stayed there for quite a while; not sure why since climbing down over the arm didn't prove challenging at all later!  Maybe he was just comfy.
With Jonathan's help approximately one third of our house was transformed into looking like this:
Now you know why Jonathan was soaking up time at his desk!
With all exposed wood protected (and there's a lot of it!) and the flooring covered (Baxter likes the grip of carpet a lot better than slipper plastic–poor dog!) we were ready to paint.
After the first light base coat applied with a roller we thought what better way to add some interest, a bit of texture and a dash of color than with a feather duster!
Actually, we're not sure what the better way is but there must be a better way–the ceiling turned out well but  it's not the look we were originally going for: all the feathers tended to clump together and left a heavier mark than we were hoping.
On the bright side, a plus for being tall is that for painting eight foot ceilings you don't need a ladder….but I could really see why Michelangelo laid on his back on scaffolding to paint his ceiling!  All that looking up gets to your neck in a hurry….
After all was said and done and a bit of a wash was applied to tone the "feathering" down a bit we are quite pleased with the result (which is hard to see in the picture)
On Wednesday and Thursday we really started to get into more of the work and proceeded to do some more striping of finish, painting the inside of cabinets and so on, which required moving more stuff out of the kitchen….
Back in the kitchen we started to make some measurable progress.
You can see part of cupboard is painted and we're ready to start using the new quart of paint stripper (on the stool) to take the finish off the cabinets. 
Here we are with the wood work sanded clean and ready to stain–this was by Friday evening.
Saturday afternoon after Jonathan's piano recital, Mom and I got the inside of the upper cupboards and accent panels painted so now we have something along this line:
We now have much of the plastic down and even part of the carpet showing in the pathway, and are planning on starting the staining process on Monday.
Along the way we also cleared out the Family room, taking the range hood to the garage and the extra couch to the basement, so that we would at least have the most part of one room for a sanctuary from the dreadful mess and clutteryness (I'm becoming quite a word smith eh?) of the rest of the house.
We are all getting to the point where we're going to be really glad when the house is back to some semblance of order!  We think it will be worth it, but the interim is getting to be a bit tedious.  It would be really nice if we could, say, live somewhere else while the project is going on.  Then you throw in a few extra things, like trying to make real food to take to the potluck at church today before we went Christmas caroling, and it really gets interesting.
But through it all, God faithfully supplies His grace freely (our lifeline!) and though the countdown (fewer and fewer days left) continues we are making progress!
There have been several other interesting or important unrelated happenings too, but they will have to wait for another day.
Matthew
Soli Dei Gloria