It is interesting how in this life time exists yet is hard to grasp or understand the passing of it.  For example, it seems like it was just days ago that Christmas was here, and yet it at the same time it seems an eon ago!  Perhaps that is just another clue to show the essence of the eternal spirit within all mankind–creatures, (in the sense that man was created by God) creatures passing through the sphere and influence of time and space but designed for something greater–eternity with their Creator!
And as we live out our days here under the sun, we should focus all our skill, thought and energy to glorifying God; and working through His processes of sanctification strive to become better vessels for His use and more effective ambassadors for Christ.  Our Aim and Goal must be to gain for Christ greater glory or all our efforts are in vain.  It is the eternal that is of consequence.
As the Scripture enjoins us– "whatever you do, do all for the Glory of God!"
How have you been living in accordance with the calling you have received?  What has God been doing in your life that you can praise Him for?  He truly delights to delight His children, and it is our privilege to return praise to Him for his glorious works in our lives!
We have had much to be thankful for this past month, with various events in which we have clearly seen the hand of God–over and over we have given Him praise for His sovereignty when circumstances and events were and are out of our control.  Through the hope we have in Christ and with the knowledge of His promises we can find (at least a little!) Joy in the midst of trials and Peace in the midst of heartache!
At the beginning of the month Jonathan had the opportunity to travel to the San Antonio Independent Christian Film Festival, and while driving down after picking up a couple of friends in Illinois experienced a disabling vehicle failure! (timing belt shredded).  But by the grace of God they were able to have another car brought from southern IL and continued on their way without loss of good spirits and a cheerful outlook.  Having lost about 7.5 hours while in Missouri, getting towed to a repair shop and waiting for the next car, they continued driving on into Texas a couple of hours past midnight before stopping for a couple hours rest at a hotel.  But while they were stopped in that town they discovered that the truck of the the car had popped open and they had lost a suitcase!  Once again however they were able to praise God that it was a bag with only clothes and not expensive camera equipment!  After safely arriving (finally!) at San Antonio and parking in a budget lot one of the car windows was broken out an someone stole another bag of clothes from the back seat…. Thankfully the insurance covered the damage.
It was a trip that they won't soon forget!  Even through the trials and testings they had a great time and were edified by the speakers at the festival and came back with a stronger friendship.
Meanwhile the van was stranded in Missouri and Jonathan would be stuck at Illinois on his return north.  So we at home made plans to pick him up and tried to figure out how to retrieve the van.  God directed us to a Christian shipping company which was able to make the arrangements necessary to have the van transported back to Michigan for about the same cost as we could have driven a truck down to bring it back on a trailer.
So now we are praising God for safe return of the boy, the van and even some more snow!
February has a reputation in Michigan of being snowy and sunny….this year we are not getting a lot of either, but are thankful for the special beauty when the two combine!
One day in particular was especially pretty this month: it started out a bit cold (a few degrees below zero) which produces gorgeous hoarfrost and a frozen fog…
Later on when the sun was shining in full force you might have thought it was summer by the shadows!
The icicles were dripping merrily:
 And the snow provided a backdrop for one of my favorite photos:
At some point we did get quite a few inches of snow…I can't actually remember if all this snow stuff happened in the same week or what but wanted to put the pictures up anyway :-)
Another celebration we had was of another year of Mom's life and the goodness of God to her!  Jonathan was still in Texas on her Birthday so we waited on grilling the porterhouse steak and fried up some ham steaks instead :-)
The rest of the meal was also delicious: fried/steamed sweet potatoes with onions and Parmesan cheese, steamed broccoli, and fried mushrooms!
With homemade (and Dadmade :-) carrot cake with cream cheese frosting for desert!
The queen for a day coming to dinner with her faithful knightly escort:
A few presents and then naps all around :-)  
On the "to do" list, now that we have the van back, one of my next projects is to pull the heads off and see what damage has been done to the valves etc…
Another project has been a pickup truck makeover; from this: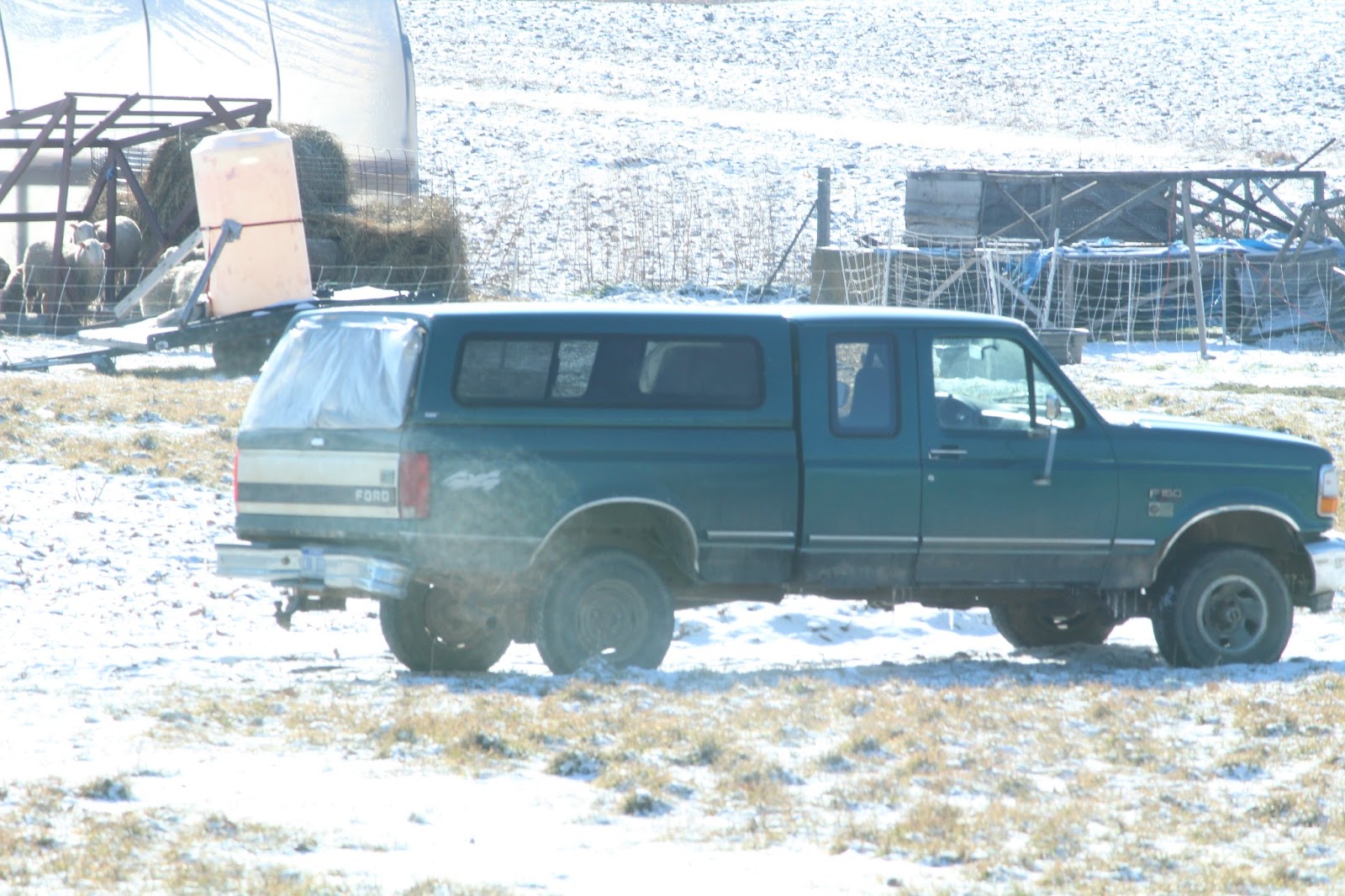 Edit: Found this picture which is a bit better :-)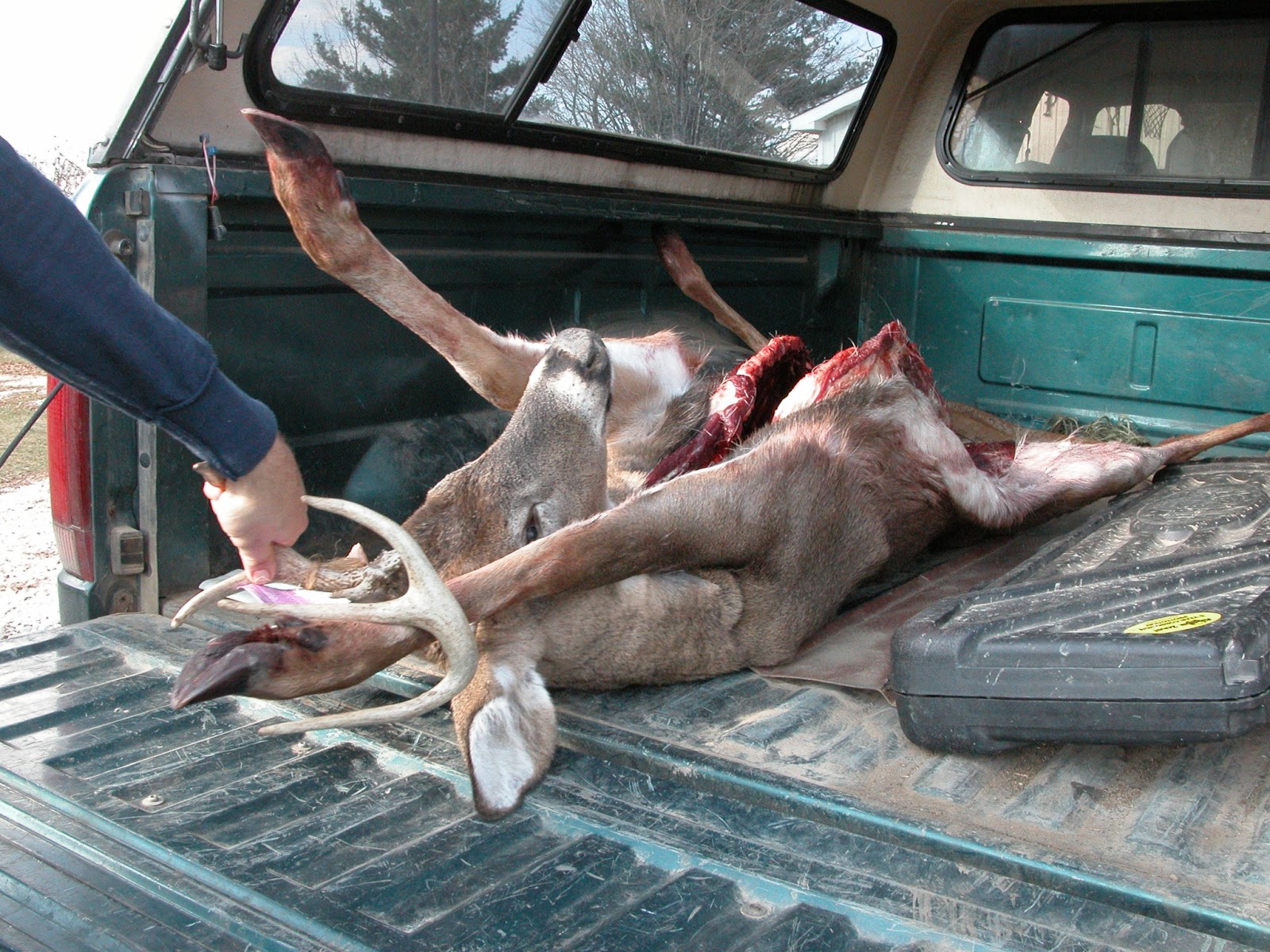 For this purpose please ignore my buddy's first deer and notice the topper…
this was the only 'before' picture that I could find of the truck….
To this:
While we were considering driving down to pick up the van from Missouri I got on a bit of a trailer craze, and "happened to find" (God's doing again) a gooseneck trailer project for a good deal…it even came with the hitch!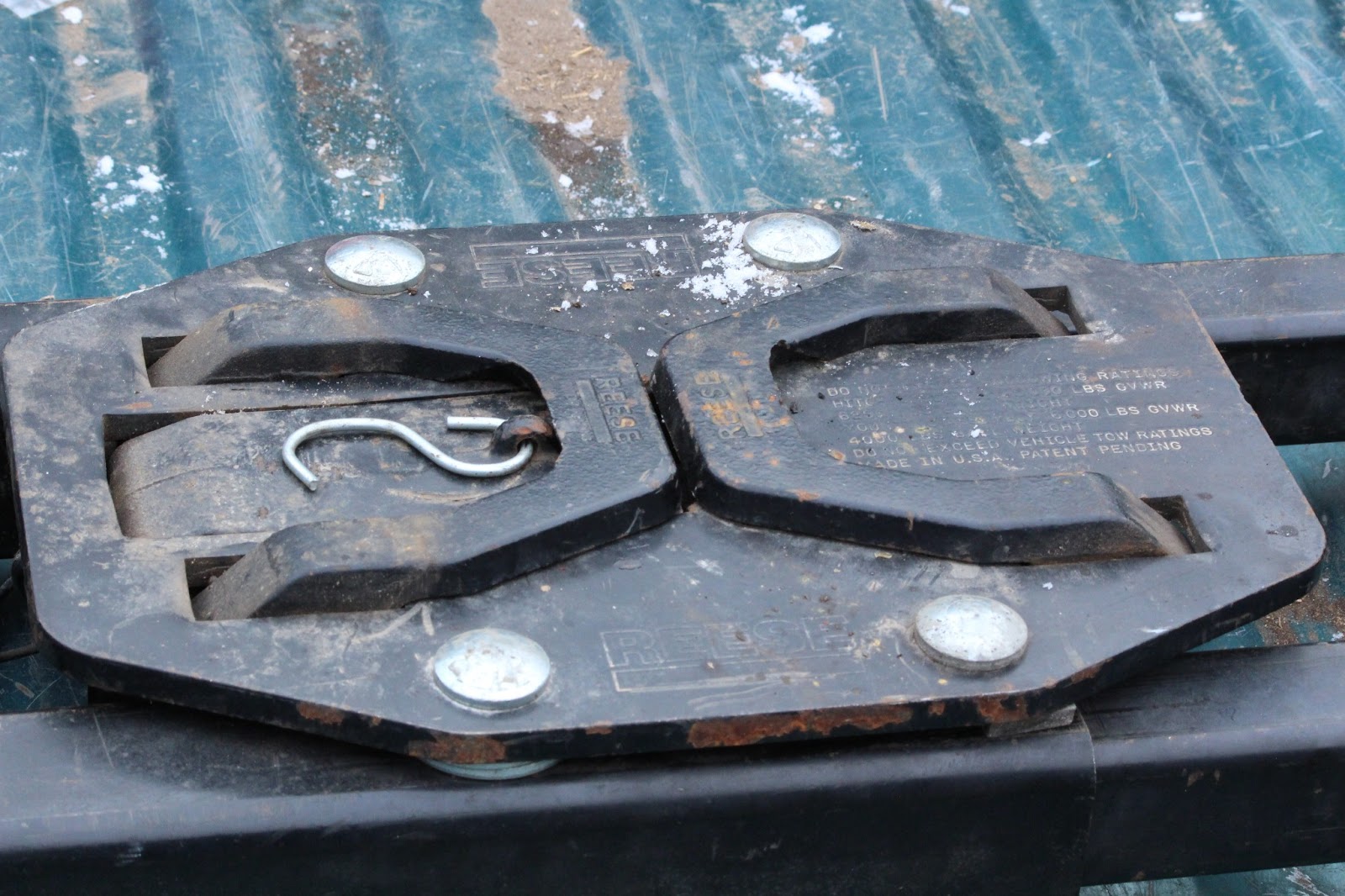 Its even one of those nice ones that fold flat!
 So now I have another fun project to work on.  I've built another trailer from a camper frame in the past and learned a lot from that so I think that I can turn this into a pretty nice little gooseneck.   I've been kinda wanting one for awhile to increase my hauling capacity without needing to upgrade the pickup–even with 1 ton and overload springs, a half-ton pickup can only do so much.  With the gooseneck to put the tongue weight closer to the truck axles it will spread the load more, even putting some weight on the front axle of the truck, allowing me to (hopefully) at least double or triple my hauling capacity over my previous single axle bumper type trailer even though this one is only a couple of feet longer.
And speaking of projects, Mom finished the quilt she was making for Jonathan while he was away in Texas! Here's a couple of quick pictures: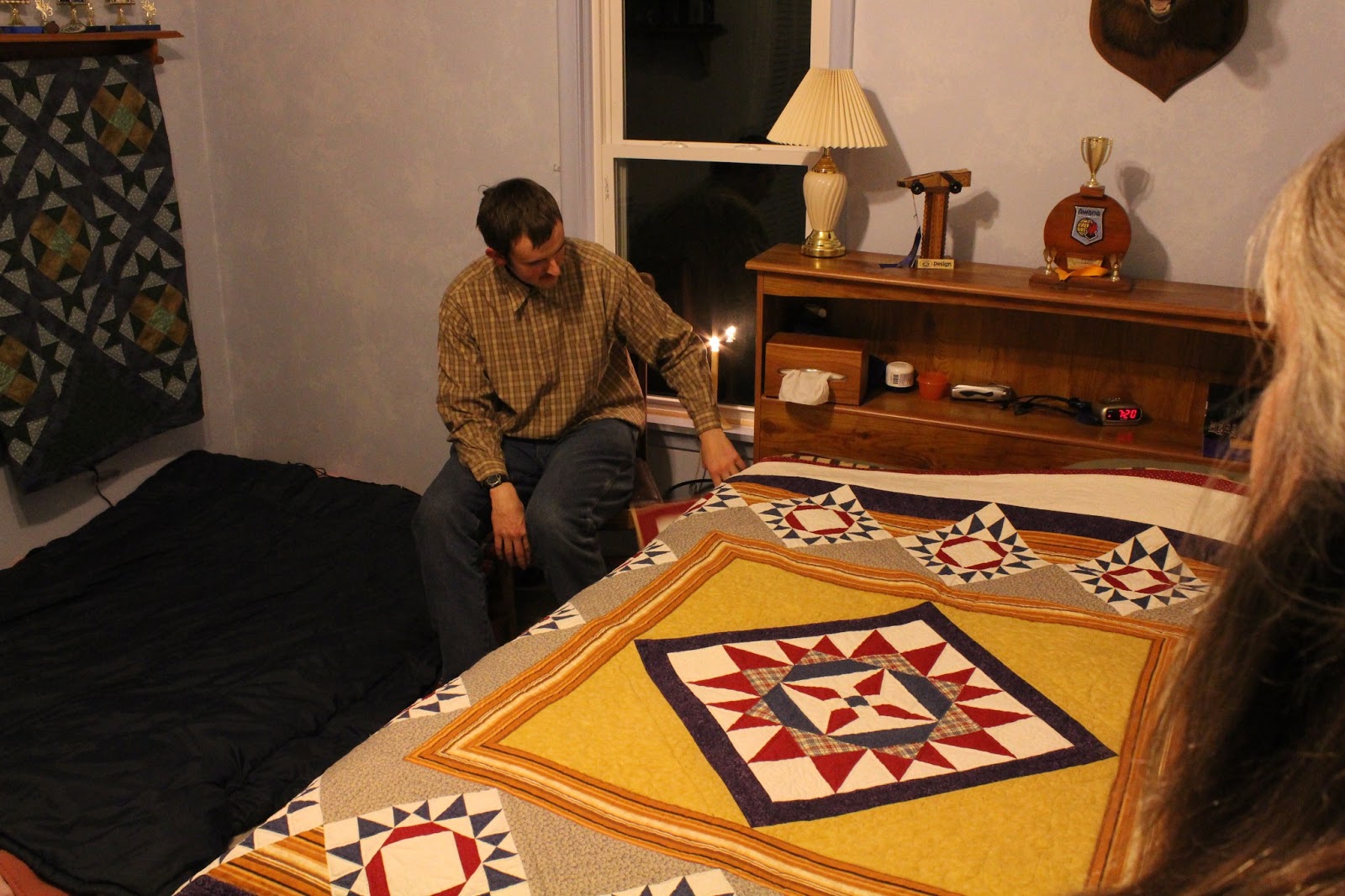 A very tired guy, but very happy! You can see the quilt Mom made me hanging in the background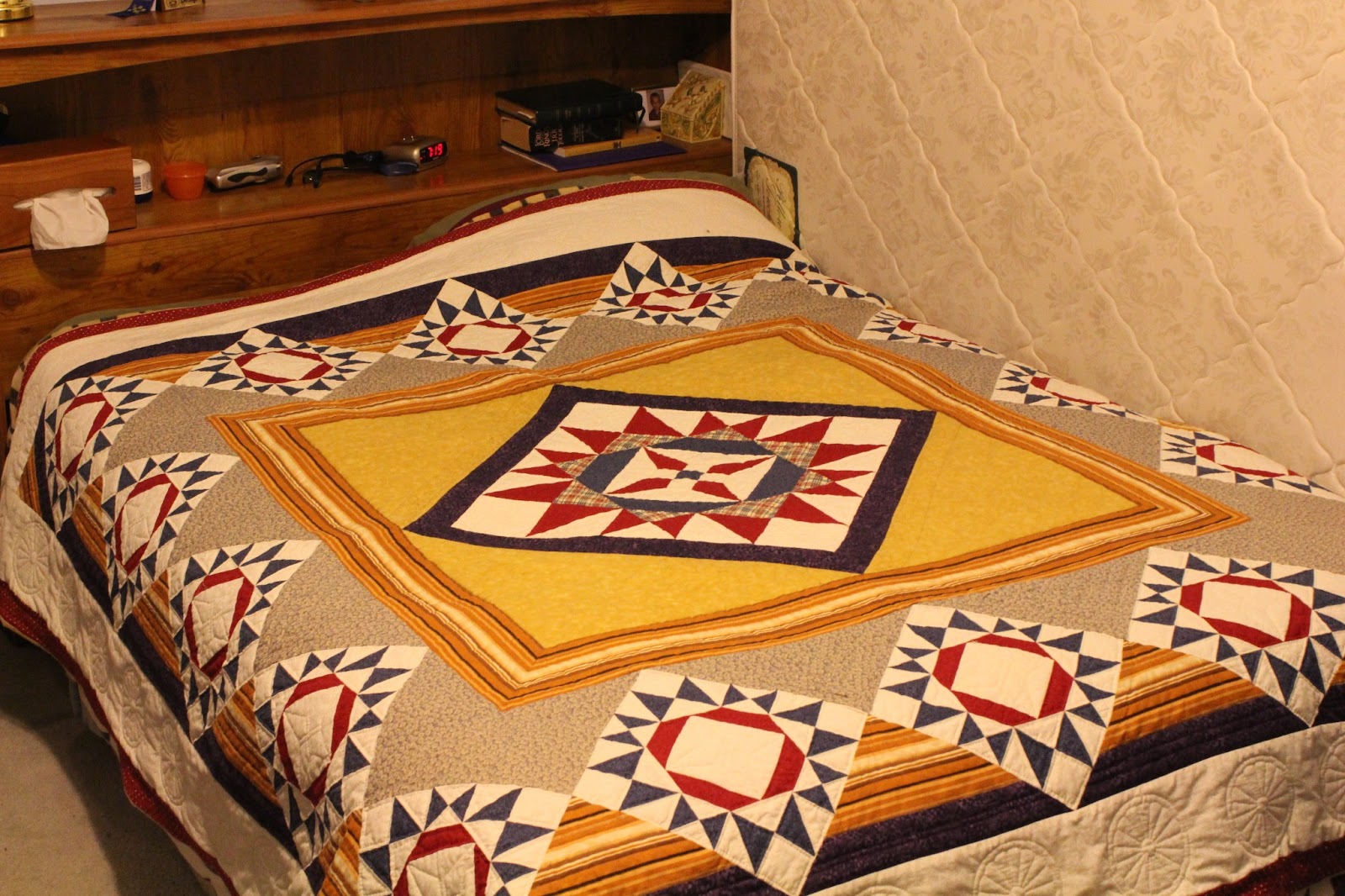 This pattern is called 'King David's Crown'
And lastly for a quick animal update: 
 If you look closely you will see our flock of "free range" wild turkeys in the back ground :-)  At times there are upwards of 50 birds that hang out in the neighboring fields gleaning what they can.
And now to Him who is able to even more than we ask or think, to Him be all power glory and majesty now and forever. Amen.
Grace and Peace be y'all's in abundance,
Matthew